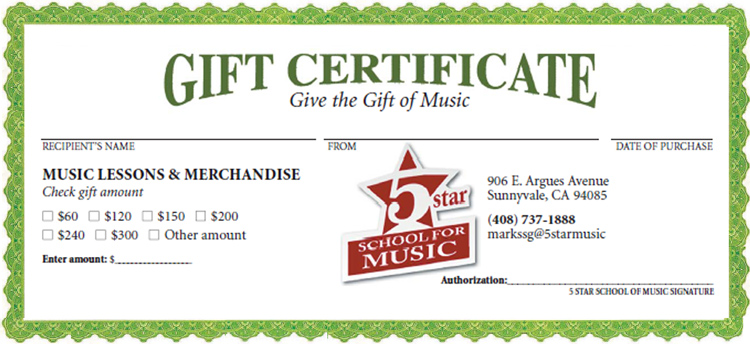 Gift Certificates Available!
Give The Healing Gift Of Music
Ages 4 to Seniors
Do you have a friend or family member that wants to learn how to play an instrument? Maybe they need a therapeutic distraction in these present times. If so, we have wonderful gift certificates available which makes for a perfect gift for music lessons.
From guitar lessons, bass lessons, drum lessons, ukulele lessons, to Chapman Stick lessons, it's all available here for you! Gift certificates can also be used for instructional books and audio play-along.
5 Star Music's
Course Material
The course material used at Sunnyvale Five Star School for Music produced by Mark Wilson and Karen Ruth consists of 6 books and audio study aids. Our 5-Star Method ( link to 5 Star method page) are the summation of years of developing, organizing and fine-tuning thousands of lessons into book form.
The books are clearly charted out in tablature and standard music notation. The play-along audio is the result of 30 years of teaching and recording experience. The fee for the course material is $150.